Sao Paulo lorry drivers' strike hits fuel supplies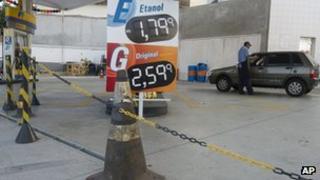 Petrol stations in the Brazilian city of Sao Paulo are running out of fuel on the second day of a truckers' strike.
The drivers, who supply the stations with petrol and ethanol, are protesting against new restrictions which would limit the hours during which they can use certain roads.
Sao Paulo's government wants to reduce congestion in the city.
But the drivers say the changes single them out unfairly and drive up costs by forcing them to take longer routes.
Jose Gouveia, who represents petrol station owners, said almost all stations in the city had been affected by the stoppage.
"They're either running low or are completely our of gas and ethanol," he said.
Stand-off
Union representatives said all of Sao Paulo's 800 fuel truck drivers had joined the strike.
But military police said they had escorted six drivers who had not joined the industrial action on their deliveries.
The union said it would continue delivering fuel to airports, hospitals, police and fire stations, to ensure emergency services would not suffer.
But Sao Paulo Truck Drivers' Union Vice-President Claudinei Pelegrini warned the strike action would hit all other services hard.
Mr Pelegrini said his members transported at least 90% of the fuel in Sao Paulo.
He warned that if an agreement was not reached, drivers who transport food and construction material would join the action on Wednesday.
Sao Paulo state authorities have convened an emergency meeting to monitor the situation.
The city's buses could run out of fuel as early as Wednesday if no more deliveries are made, according to drivers belonging to the union.
The new rules ban trucks from entering some central areas of Sao Paulo at peak hours to ease the severe congestion the city experiences.
The truckers say they will be forced to take longer routes, driving up costs, and are demanding more flexible rules.