Mexico judge proposes Florence Cassez release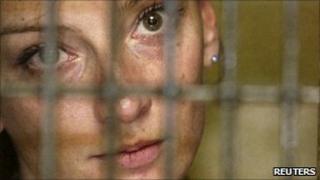 A Mexican Supreme Court judge has said that Frenchwoman Florence Cassez, who is serving a 60-year sentence for kidnapping, should be released.
Judge Arturo Zaldivar argued that Ms Cassez, 37, had been denied her consular rights and the right to be presumed innocent.
His proposal for her "immediate and absolute" release will now be considered by a panel of five judges.
The case has caused diplomatic friction between Mexico and France.
Florence Cassez was arrested in 2005 at a ranch near Mexico City where three kidnapping victims had been held for two months.
Judge Zaldivar's recommendation that she be freed is based on how she was treated after her arrest.
In a motion presented to the Supreme Court, he says police violated her rights by failing to notify the French consulate and failing to present her to investigative officials.
TV montage
He also notes that - the day after she was detained - police staged a re-enactment of her arrest and the rescue of the kidnap victims for the benefit of the media.
The footage was shown on Mexican television as if it were a genuine raid.
The judge argued that this montage created the impression that she was guilty and may have influenced the testimony against her from the police and kidnap victims.
It is not certain when the Supreme Court will hear her case, but her lawyer told the French AFP news agency that a ruling should be made on 21 March.
Ms Cassez has always denied any knowledge or involvement in the kidnappings.
She maintains that her only connection with the case was that she was the girlfriend of one of the kidnappers.
In France, she is widely considered the victim of a miscarriage of justice.
French President Nicolas Sarkozy has been among those questioning her conviction and calling for her to be returned home.
Speaking on Thursday, he said it was "the first good news in five-and-a-half years", adding that he would say no more on the subject for fear of influencing Mexico's judicial system.
In 2010, a year of Mexican cultural events in France was cancelled after Mr Sarkozy suggested it be used to highlight her case.
Ms Cassez has attracted little public sympathy in Mexico, which has one of the world's highest kidnap rates, with victims sometimes murdered even after ransoms have been paid.