Venezuela's Chavez flies home after cancer treatment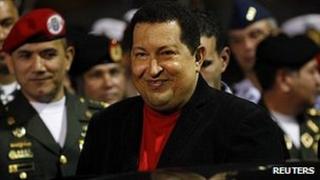 Venezuelan President Hugo Chavez has returned home after having surgery for cancer in Cuba.
Mr Chavez, 57, had been in Cuba for three weeks for treatment for a recurrence of the cancer he first had treated last year.
He has said he is recovering well but will need radiotherapy.
His renewed illness has caused political uncertainty ahead of presidential elections in October, when he is seeking re-election.
Mr Chavez waved and smiled as he stepped off the plane at Caracas international airport, where he was met by government ministers.
"This new return... is a great prayer, a love song and, at the same time, a commitment," Mr Chavez said in an emotional televised speech to the nation.
He also accused his opponents in the Venezuelan media of trying to provoke fear and uncertainty in the country.
"I call on the country to stay calm," he said.
Earlier, President Chavez had announced his return to Venezuela on the social networking site, Twitter.
"Good afternoon, good world!" he tweeted.
"Right now we are taking off from Jose Marti international airport, heading south, heading for the fatherland! Thank you my God!"
He said that Cuban President Raul Castro had seen him off from the airport and he had had lunch with former Cuban leader Fidel Castro.
"We will live and we will conquer!" he added.
Rumours
During his stay in Cuba Mr Chavez said he had a malignant lesion removed from his pelvic region, where he had surgery for a cancerous tumour last year.
He has said there is no sign the cancer has spread to other parts of his body.
But the exact nature of his cancer has never been made clear, fuelling rumours that his health may be worse than officially stated.
The BBC's Sarah Rainsford in Havana says radiotherapy is likely to sap his energy for campaigning ahead of October's election, in which he is facing a strong challenge from opposition candidate Henrique Capriles Radonski.
Mt Chavez, who has been in power since 1999, is seeking another six-year term to continue his programme of "socialist revolution".