Seven dead in Honduras pool hall shooting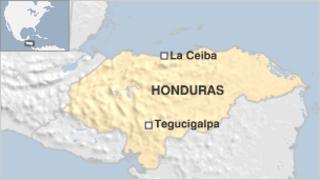 Gunmen have killed seven people during an attack on a pool hall in Honduras, police say.
They say six people were shot dead when a group of about 30 attackers burst into the venue in the northern city of La Ceiba on Sunday.
They then entered a neighbouring house where they killed a 15-year-old boy.
Honduras has one of the world's highest murder rates, according to the UN, with much of the violence linked to drug-trafficking.
The motive for the latest killings is being investigated.
Police suspect they were part of a fight for territory between rival gangs, local media reports say.