Brazil's former president Jose Sarney has heart surgery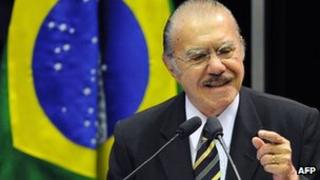 Brazil's former president Jose Sarney is recovering in intensive care in a Sao Paulo hospital after undergoing heart surgery.
Mr Sarney, 81, underwent angioplasty over the weekend to clear an obstructed artery, doctors said.
He served as president from 1985 to 1990, the first civilian leader following 20 years of military rule.
Mr Sarney has remained prominent on the political stage and is currently the Senate leader.
Doctors say he is in a stable condition and is expected to remain in hospital for about a week.
Mr Sarney's elevation to the presidency was sudden and unexpected.
He was the running mate of Tancredo Neves, who fell ill on the eve of his inauguration as president and died shortly afterwards.