Colombia seizes two tonnes of 'Farc rebel cocaine'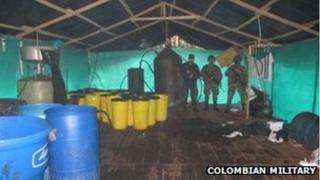 Soldiers in Colombia say they have seized more than 2 tonnes of cocaine in Narino province, in the south of the country.
The military raided a drug laboratory thought to belong to Colombia's largest rebel group, the Farc.
The soldiers said the laboratory was part of a camp which could house up to 20 rebels.
Farc rebels rely heavily on the cocaine trade to finance their five-decade-long campaign against the Colombian state.
The military said the laboratory, hidden deep in the jungle, was a sturdy wooden structure with everything needed to turn cocaine paste into cocaine.
The soldiers seized 2,121kg of cocaine, three microwave ovens, two electricity generators, a centrifuge and vats full of precursor chemicals used in the cocaine-making process.
Narino is the province with the highest density of coca plants in Colombia, with criminal gangs such as the Rastrojos and Farc rebels controlling much of the production and trafficking of the drug.