Brazilian man arrested 16 years after Amazon massacre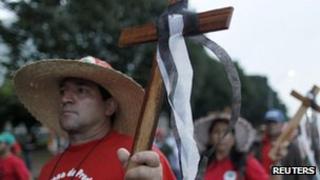 A former Brazilian police officer sentenced for involvement in the killing of 19 landless protesters in the Amazon has been arrested 16 years after the massacre.
Colonel Mario Colares Pantoja was sentenced to 258 years in jail in 2002.
He had managed to remain free until now while he appealed against his sentence.
But a judge in Brazil's northern Para state said the appeals process was exhausted, and ordered his and a fellow officer's arrest.
Major Jose Maria Pereira de Oliveira, who was given a prison term of 158 years, remains at large.
The two officers were in charge of the police battalion that was ordered in April 1996 to clear a road blocked by more than 1,000 landless protesters near the town of Eldorado do Carajas.
They were sentenced over the killings but more than 100 defendants, including other police officers and government officials, were acquitted.
Prosecutors say police began clearing the road at night time. Nineteen protesters were killed, many shot at close range.
Human rights activists say the delay in bringing those guilty to justice highlights Brazil's culture of impunity and the flaws in the justice system.
"It is regrettable, but there are many similar cases in Brazil. People are found guilty, sentenced and yet remain free for years while their lawyers appeal," said prosecutor Marco Aurelio Nascimento.
More violence
A new report released in Brazil says cases of conflict over land issues are on the rise.
The report, by the Catholic human rights group, the Pastoral Land Commission (CPT), says there were 1,363 such cases in 2011, a 15% increase over the previous year.
"A battle has been declared that is expressed in the violence against those considered obstacles to development and progress, because their projects run counter to the prevailing development models," a CPT statement says.
The report says that 29 people were murdered in clashes over land in Brazil in 2011, a slight decrease on 2010, when 34 people died in land disputes.
CPT spokesman Edmundo Rodrigues Costa says both the federal and state governments are to blame for the violence.
"For years the authorities have failed to demarcate indigenous lands, especially in the Amazon. The lawful owners end up occupying the land and are later the subject of threats and violence," says Mr Costa.
Brazil is one of the world's main agricultural producers, with significant exports of soy and beef. But much of the arable land is in the hands of rich landowners.