Peru ministers resign over Shining Path rebel clashes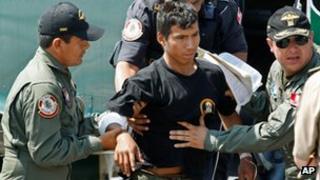 Peru's interior and defence ministers have resigned in the face of a public outcry over a failed security operation against Shining Path rebels.
Interior Minister Daniel Lozada and Defence Minister Alberto Otarola had been facing censure in congress.
Both had been criticised after at least nine soldiers and police officers were killed in clashes with the rebels.
There was particular outrage after the father of one dead officer was left to recover his body from the jungle.
"Recent events have led me to take this decision so that our government and the people can unite behind our security forces, to give them the support they need to defeat narco-terrorism" Mr Otarola said.
The clashes happened last month in the Apurimac-Ene valley in southern Peru, a stronghold of the Maoist Shining Path group.
The security forces were ambushed as they pursued a guerrilla column that had kidnapped then released 36 natural gas workers.
One wounded policeman survived alone for 17 days in the jungle before making his way to safety despite a bullet wound in the leg.
And there was national outcry after father Dionisio Vilca was left without help to recover the body of his police officer son Cesar.
Mt Vilca said he set off on a nine-hour trek into the jungle to find his son - who had been missing for 20 days - after the authorities abandoned the search.
President Ollanta Humala replaced much of his cabinet last December after unrest over a controversial mining project.
The Shining Path rebel group posed a major challenge to the Peruvian state in the 1980s and early 1990s, but is now reduced to small gangs involved in cocaine trafficking.