Mexico profile - Leaders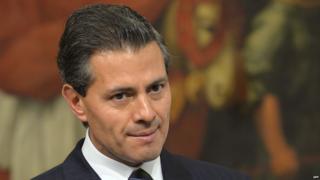 President: Enrique Pena Nieto
The once dominant Institutional Revolutionary Party returned to power in 2012 with a clear win in presidential elections by Enrique Pena Nieto.
He beat veteran left-winger Andres Manuel Lopez Obrador, and drove Josefina Vazquez Mota of the rightwing National Action Party (PAN) into a distant third place. This ended 12 years of PAN rule.
Having promised major changes to the way Mexico is run, Mr Pena Nieto has pushed ground-breaking reforms, including closing corporate tax loopholes, liberalising the telecoms industry and opening the longstanding state energy monopoly to private competition.
But rampant gang violence, corruption and the weak state authority remain festering sores, feeding growing public disenchantment.
Having pledged no return to the PRI's pre-2000 policy of tolerating drug cartels in return for civil peace, Mr Pena Nieto has taken steps to deal with the gangs' influence on police forces, but observers believe these will take time to bear fruit.
Born in 1966, Mr Pena Nieto began his political career in his 20s, working for the PRI and in the local government system in Mexico State, the country's most populous state, rising to win the gubernatorial election in 2005.
He won praise for his expansion of the transport and healthcare system and careful financial management during his six years as governor of Mexico State, which helped win him the PRI presidential nomination and the election itself.