Repsol cancels Argentina gas exports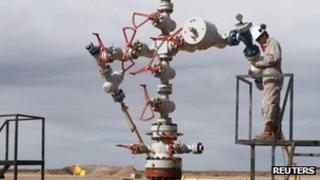 Spanish firm Repsol has cancelled a contract to provide liquefied natural gas (LNG) to Argentina.
The move comes weeks after the Argentine government seized control of Repsol subsidiary YPF.
Repsol told news agency AFP that state-run Argentine energy firm Enarsa "has made a series of violations" and "is not respecting its terms".
Currently Argentina relies on LNG imports to meet 20-30% of domestic natural gas consumption.
Repsol was due to provide 10 of the 80 cargo shipments planned to meet peak demand between June and September.
Argentina's planning ministry said those cargoes had already been replaced by other providers "because we knew they would fail to comply, in the same way they did during all the years they controlled YPF," Reuters reports.
Supply concerns
The South American country took over Repsol's majority stake in oil firm YPF in April, nationalising the firm which provides about a third of Argentina's oil and a quarter of its gas.
It said Repsol was not investing enough to increase output from YPF's oilfields, which would lessen Argentina's need for imports.
Argentina's President Cristina Fernandez said: "If such a situation continued, we would have had big energy problems in the country because of the drop in production and the increasing reliance on fuel imports."
The company denies the charge, and both the Spanish government and European Union condemned the move to nationalise YPF.
Last year, Repsol-YPF discovered large quantities of gas in a remote area called Vaca Muerta, meaning Dead Cow.
Analysts suggest that Argentina's decision to takeover YPF may be down to its desire to become more energy independent and harness the resources at Vaca Muerta to reduce its reliance on costly LNG imports.
On 10 May, Repsol published figures showing how the Argentine government's takeover of its majority stake in YPF had shaved $149m off its profits for the year.
The company's lawyers said it was studying the legality of the takeover.