Seven Peruvian children die of rabies after bat bites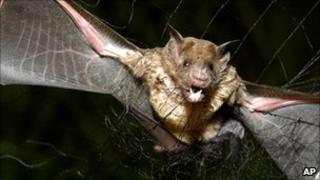 Seven indigenous children in Peru have died from rabies over the past two months after being bitten by bats, health officials say.
The children came from a remote community 1,160km (721 miles) south-east of the capital, Lima.
In 2010, a rabies outbreak saw 20 children succumb, while several children died last year.
The government says medical teams have been carrying out a mass vaccination programme since the end of 2011.
The children who died in the latest outbreak were aged from 11 months to 12 years.
To prevent further deaths, health officials have been despatched to the Camana community, which is located in the rainforest and can only be reached by river.
According to the Peruvian vice minister of health, Percy Minaya, the authorities have bought some 180,000 doses of the vaccine and are targeting indigenous communities with a health campaign.
Rabies causes inflammation in the brain and is almost always fatal.
The rabies virus is transmitted by animals and in Peru, some vampire bats carry it.
These bloodsucking mammals usually feed on wildlife or livestock, but sometimes turn to humans for food, particularly in areas where their rainforest habitat has been destroyed.