Honduras march in protest at journalist killings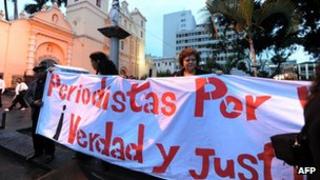 Thousands of people have been marching in cities across Honduras in protest at a wave of violence against journalists.
More than 20 journalists have been murdered over the past three years.
None of the murders has been solved, and it is not clear whether the victims were targeted because of their profession.
Honduras has the world's highest murder rate. Pressure groups say journalists face a growing risk as drug trafficking and organised crime increase.
Shouting "Killing journalists doesn't kill the truth", an estimated 5,000 people marched to the presidential palace in the capital Tegucigalpa.
They asked President Porfirio Lobo for increased security for journalists and an end to the widespread impunity criminals enjoy in Honduras.
Police purge
President Lobo told the demonstrators that "democracy, freedom of speech and the country's institutions will prevail over the criminals".
Thousands more marched in San Pedro Sula, La Ceiba, Comayagua and Choluteca.
Earlier this month, journalist Alfredo Villatoro was found shot dead outside of Tegucigalpa, a week after he had been abducted on his way to the radio station where he worked.
Five people have been arrested in connection with Mr Villatoro's murder. One of those detained is a policeman.
On Thursday, President Lobo said a purge of the police was essential to guarantee the safety of the country.
He spoke after the United States released a report saying corruption and human rights abuses were serious problems in the Honduran police force.
Mr Lobo has already replaced the head of the police and said there would be further changes to come.