Chile-Peru landmine blast kills at least one in car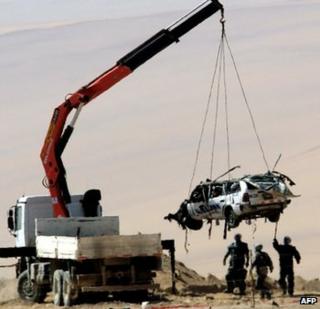 A Peruvian driver was killed when his car hit a landmine in northern Chile.
The Chilean army said the car - a taxi with a Peruvian number plate - crossed the border illegally on Friday night in the Arica and Parinacota region.
It inadvertently entered a minefield and set off an anti-tank device, which destroyed the vehicle.
Chile planted thousands of mines along its border in the 1970s during a period of tension with Peru.
Chilean prosecutor Patricio Espinoza confirmed the driver was a Peruvian national, but did not identify him.
The victim was apparently driving a taxi that belonged to a private company in the border city of Tacna.
The Chilean army said in a statement that the minefield, in an area known as Quebrados Escritos, "was expressly marked according to existing international norms."
Reports in the Chilean press say another person was killed in the accident.
The police said no one could have survived the powerful explosion, but only one casualty has been confirmed so far.
Border tensions
Periodic border tensions are a legacy of the 19th Century War of the Pacific, which ended with Chile annexing part of southern Peru as well as Bolivia's coastline.
The mines on the Peruvian border were planted during the government of Gen Augusto Pinochet (1973-90).
Chile had tense relations with Argentina at the time, and the military government decided to mine its northern border to prevent an invasion.
Chile's democratic government later became a signatory to the Ottawa Treaty banning anti-personnel mines. It aims to be mine-free by 2020.
Since 2002, 14,000 mines have been cleared, but thousands still remain on the border with Peru.
In February, more than 100 of them were displaced by torrential rain and washed down a ravine into the vicinity of the road linking Arica in Chile and Tacna in Peru.
The border remained closed for several days, while army bomb disposal experts detonated a number of devices in controlled explosions.
The closure left hundreds of travellers stranded.