Peru emergency in Cusco region over anti-mine protests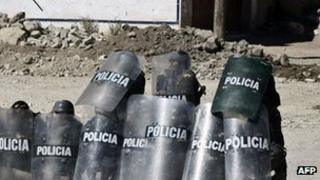 The Peruvian government has declared a state of emergency in a southern Andean province following seven days of anti-mining protests and the deaths of two demonstrators.
Freedom of assembly has been suspended and police given special powers.
More than 70 police officers have been injured in clashes with protesters in Espinar province, near Cusco.
The copper mine dispute is over pay and environment issues. The government says the move is to restore public order.
The state of emergency, which will be in force for 30 days, is the second over anti-mining protests in Ollanta Humala's 10-month-old presidency.
Last December, civil liberties were also restricted in the northern region of Cajamarca where opposition to the construction of a huge gold mine by an American company continues.