Honduras sets up anti-corruption body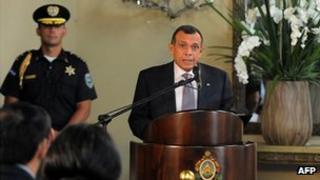 The Honduran government has set up an anti-corruption commission to target rogue officials in the judicial system and police force.
President Porfirio Lobo said both institutions had been infiltrated by drug traffickers.
He said the five-member panel would help address the country's "many security challenges".
Last month President Lobo said a purge of the police was essential to guarantee the safety of the country.
Shortly after Mr Lobo's latest announcement, Security Minister Pompeyo Bonilla said he had suspended six senior police commanders.
He did not identify the officers or give any other details, but said they would be put through "confidence tests".
Announcing the new commission, Mr Lobo said: "We are tired of not having a [security] system in which its members ensure justice and give confidence to the people."
He asked officials not to see the work of the commission as "an intervention, but as a necessity".
In the past six months, President Lobo has replaced two police chiefs and a security minister as he tries to tackle organised crime and drug trafficking.
Honduras has one of the world's highest murder rates.