Augusto Pinochet documentary prompts protest in Chile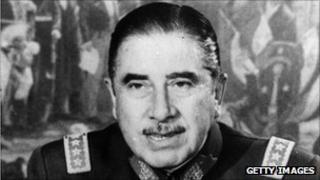 Relatives of victims of Augusto Pinochet's military rule in Chile have protested against plans to pay homage to the late general this weekend.
They held a rally in Santiago, calling for the screening of a new pro-Pinochet documentary to be banned.
The relatives say it is insensitive, but the government says it is a private event and it will not intervene.
More than 3,000 people disappeared or were killed during Gen Pinochet's rule, which ended in 1990.
Gen Pinochet, who ruled the South American nation for 17 years, died in 2006.
Divisive figure
The protesters held a rally at a former detention and torture centre in the Chilean capital.
Many wore photos of their relatives.
"In Chile, state-sponsored terrorism existed. Forced disappearances existed. Torture existed. Executions. And the systematic violation of hundreds of Chileans. We cannot allow this. We can't allow a tribute to this," Alejandra Arriaza, of the Corporation for the Promotion and Defence of People's Rights was quoted as saying by the AP news agency.
The documentary, "Pinochet", will be screened in a theatre in Santiago on Sunday.
The organisers say it aims to show Gen Pinochet as he really was, and not as the media portrayed him - as a ruthless dictator.
Right-wing politicians and former members of the Chilean military have been invited.
The controversy shows how divisive Gen Pinochet remains, nearly four decades after the coup that brought him to power, the BBC's Gideon Long in Santiago reports.
For some he was a hero who saved Chile from Communism, but for others he was as brutal murderer who should be reviled, not applauded, our correspondent says.