Brazil journalist and writer Ivan Lessa dies at 77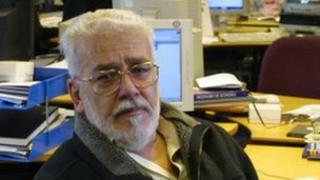 The distinguished Brazilian journalist and writer Ivan Lessa has died in London aged 77.
Mr Lessa had contributed to the BBC's Portuguese-language broadcasts and website, BBC Brasil, since 1978. His last column was published on Friday.
Mr Lessa was one of the founders of the newspaper O Pasquim best known for its opposition to the military dictatorship which ruled Brazil from 1964 to 1985.
He had also worked for Brazil's TV Globo and leading Brazilian newspapers.
One of Mr Lessa's most famous observations of life in his home country was that "every 15 years Brazil forgets its last 15 years."
The Head of BBC Brasil, Juliana Iootty, paid tribute to Mr Lessa, saying: "It was a privilege working with Ivan."
"He was one of the most important journalists of his generation, a reference to anyone that wanted to understand the role of the press in the resistance against the military dictatorship in the country. He takes with him so much knowledge about that era," Ms Iootty added.