Peru mayor detained over anti-mining protests freed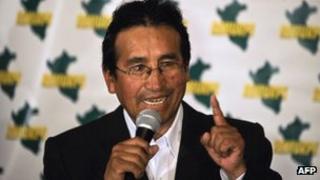 The mayor of a Peruvian province accused of inciting anti-mining protests has been released after 11 days in "preventative" detention.
Oscar Mollohuanca, mayor of Espinar, faced five months in custody but a judge has ruled that this is unjust.
Two people died and dozens were injured last month in Espinar amid protests against a copper mine run by Swiss company Xstrata.
Mr Mollohuanca, who is still under investigation, denies inciting trouble.
He also denies using public money to fund the protests.
A judge ruled on Wednesday that he should be released from detention.
Addressing the media, Mr Mollohuanca said his arrest had been "arbitrary" and expressed hopes that there would be dialogue to tackle the area's environmental and social problems.
A month-long state of emergency was imposed in Espinar after clashes erupted on 28 May.
Local people have expressed fears that the copper mine is polluting the area and want Xstrata to pay more mining royalties to the local authorities.
In a statement on 13 June, Xstrata said it was confident that it had abided by the regulations but said it was ready to participate in further environmental studies in Espinar province.
The Tintaya Antapaccay mine has undergone a $1.5bn (£970bn) expansion, which is due to begin operations in the second half of the year, according to Xstrata.