Viewpoint: Voters unswayed by Mexico's election campaign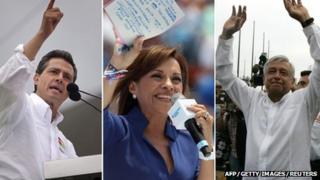 On 1 July, Mexicans elect a new president, after a campaign that officially began three months ago but has in fact been under way much longer. Professor Duncan Wood argues that the main feature has been how little scandals, gaffes and protests have affected the candidates' standing.
If the opinion polls are right, the Institutional Revolutionary Party (PRI) is set to return to the presidency after an absence of 12 years.
The PRI's candidate, Enrique Pena Nieto, has, according to most polls, maintained a double-digit lead over his main rivals, Andres Manuel Lopez Obrador of the Party of the Democratic Revolution (PRD) and Josefina Vazquez Mota of the current governing National Action Party (PAN).
This is despite numerous scandals involving Mr Pena Nieto and the PRI, and student protesters attacking what they say is biased coverage in his favour by Mexico's mainstream media.
When the candidates were officially confirmed by their parties earlier this year, Mr Pena Nieto was well ahead, by some estimates polling more than 50% of popular support.
But it was assumed that his two main rivals would be able to cut away at that lead as their campaigns gathered speed.
In particular, Ms Vazquez Mota was believed to be an effective operator, having been the campaign manager in 2006 for current president Felipe Calderon.
As for Mr Lopez Obrador, it was thought he would use his trademark firebrand style to target Mexico's disadvantaged classes, highlighting the failures of the economy over the past 12 years as his core message.
Enforced silence
But Mexico's election laws determined a "veda electoral", a month-long period in which none of the candidates could campaign until the official start on 30 March.
This enforced break effectively took the wind out of the sails of the PRD and PAN candidates.
It was particularly damaging for Ms Vazquez Mota, who had generated momentum and a certain buzz during her party's primary election in February.
She secured the PAN's candidacy, overcoming opposition from President Calderon, who had openly favoured his finance minister, Ernesto Cordero.
But when the campaign re-started, the PAN struggled, with a number of elementary gaffes and errors, including Ms Vazquez Mota addressing a half-empty sports stadium.
The PAN's loss seemed to be Mr Lopez Obrador's gain and he quickly passed Ms Vazquez Mota in the polls.
This back and forth between the PAN and PRD, however, became a feature of the campaign, with the two taking votes away from each other rather than from Mr Pena Nieto.
The PRI candidate himself has been almost untouchable, despite numerous missteps and scandals.
First, it was revealed that he had had extra-marital affairs during his first marriage, and had fathered children.
Then, he floundered at a news conference when asked to name three books that had affected his life. The response to this was merciless, as social media circulated joke after joke about the candidate's illiteracy.
But amid the mockery, Mr Pena Nieto continued to poll well ahead of his rivals.
Students
Then came two developments that commentators saw as damaging to the PRI candidate's campaign.
Scandals surfaced involving two former PRI governors of the state of Tamaulipas (on the US border), Tomas Yarrington and Eugenio Hernandez.
They are alleged to have colluded with drug cartels - charges they deny.
The scandals hit at the heart of the PRI's assertion never to have collaborated with organised crime.
Mr Pena Nieto has said his administration would not tolerate any dealings with drug gangs, but it is up to the courts to determine whether there was wrongdoing by the men.
Then came a defining moment in the campaign itself when Mr Pena Nieto visited Universidad Iberoamericana, a private university in Mexico City.
He was forced to cut short his visit amid vehement protests from the students, who accused him of authorising the killing of protesters during his time as governor of the State of Mexico.
Foolishly, his campaign team claimed that the protesters were not students but political agitators paid by Mr Lopez Obrador's campaign.
The protesters responded by uploading a video to YouTube showing 131 of them with their university IDs to prove they were registered students.
This in turn sparked a student protest movement called YoSoy132, or I Am 132, that has staged street protests and repeatedly attacked the mainstream media's support for Mr Pena Nieto.
Yet none of this seems to have had a significant impact on the polls.
Mr Lopez Obrador enjoyed a temporary 1%-2% boost as he aligned himself firmly with the student movement, and then Ms Vazquez Mota appeared to retake the initiative as she adopted a discourse that embraced youth issues.
But once more, these gains have been mostly at each other's expense.
It is likely that the polls will narrow before election day. Online political sites, such as Animal Politico, are predicting that Mr Pena Nieto will win by a few points.
But for many, it is not whether Mr Pena Nieto wins but how big the margin of victory will be.
Professor Duncan Wood (@AztecDuncan) is director of the International Relations Program at the Instituto Tecnologico Autonomo de Mexico (ITAM) in Mexico City, Senior Associate at the Center for Strategic and International Studies, and Senior Adviser to the Mexico Institute of the Woodrow Wilson Center, both in Washington DC.