Bolivia profile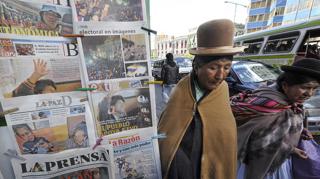 Private newspapers and broadcasters dominate Bolivia's media landscape; their ownership is highly concentrated.
However, there has been a recent, rapid growth of state-owned media, including a network of community radios, says US-based Freedom House.
The organisation noted in 2011 that journalists are "caught up in a polarised political environment". It cited threats and attacks against news media.
Defamation remains a criminal offence. Concerns were raised over a 2010 anti-discrimination law. Its "far-reaching and vague" language would be used to curb and punish legitimate journalism, warned the Committee to Protect Journalists.
Newspaper readership is limited by low literacy. With hundreds of stations, radio is important, especially in rural areas.
Nearly two million Bolivians were using the internet by December 2011 (Internetworldstats.com). The platform has not faced official curbs.
The press
Television
Radio
News agencies