Jamaica profile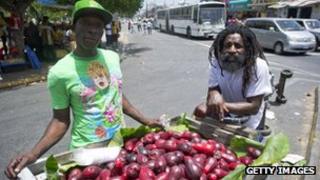 Jamaica enjoys a free press and its newspapers frequently criticise officials.
Broadcast media are mainly commercial and are open to diverse comment. There are three terrestrial TV stations and a handful of cable channels. The main newspapers are privately-owned.
Jamaica enjoys a top 20 ranking in the 2013 Reporters Without Borders Press Freedom Index.
BBC World Service radio is available on FM.
Jamaica had 1.6 million internet users in June 2012 (via Internetworldstats).
The press
Television
Radio