Cuban activists pay tribute to Oswaldo Paya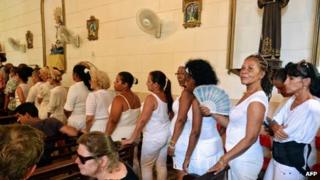 The bells of Havana's San Salvador Church tolled on and off for several hours, calling friends, family, diplomats and fellow dissidents to pay their respects to Oswaldo Paya.
The dissident, who died on Sunday in a car crash, was a devout Catholic.
On Monday, mourners gathered round his coffin, laid out in the church, for a memorial service and all-night vigil, ahead of a funeral Mass expected to be attended by Cardinal Jaime Ortega.
By the time the memorial service began the pews and the aisles were packed.
Those inside the church talked much of a man of a peace; someone who wanted democratic change in Cuba but who believed that could happen through dialogue and reconciliation.
"He was the first person to try to change things, through the Cuban legal system - through parliament," said Lilvio Fernandez Luis, a young opposition activist.
"He was a pacifist, never aggressive. It is a heavy loss."
The Cuban authorities saw Mr Paya, like all critics, as a mercenary paid by the US to undermine the revolution.
Mr Paya always denied receiving any funds from America, although he was awarded the European Parliament's Sakharov prize for human rights.
The priest leading the memorial service spoke of man with three loves: for Cuba, the Church, and Jesus. He was also, those present recalled, a family man.
Conflicting accounts
As they mourn their loss, his family are dealing with doubts about how Oswaldo Paya lost his life.
An official report, published on page six of Monday's Granma - the Communist Party newspaper - described the accident as "regrettable". It said the driver of the hire car he was travelling in lost control, and the vehicle hit a tree.
Mr Paya, 60, and another Cuban, young opposition activist Harold Cepero, were killed. The others in the car, a Swedish and a Spanish politician, were only lightly injured.
Mr Paya's son, also called Oswaldo, alleges that the foreigners said they had been forced off the road by a truck that rammed their car repeatedly.
"The two survivors did not lose consciousness and they said they were hit by a truck. It was not an accident. They say they were hit several times," he told the BBC.
However, the foreigners have not yet made any public statement and the Swedish embassy said it could not comment on the reports.
Cuba's roads, even the motorways, are notoriously ill-kept and dangerous.
"My father has had multiple death threats," Mr Paya's son said. "And they increased after the Varela project. That was the strongest pressure the government had faced in 50 years."
Emotional
The Varela project was a campaign to gather signatures calling for reform and hand them to the parliament to demand a referendum. Mr Paya collected some 25 000 over the years, from 2002. The referendum was rejected. A year later, dozens of fellow activists were imprisoned.
He also had another serious car incident a month ago, when a taxi crashed into him.
Still, in recent years Oswaldo Paya has had a relatively low profile and it does seem an odd time for a conspiracy theory.
Many foreign diplomats - from Europe and the US - attended all or parts of his memorial service, some visibly moved by the occasion.
Like many Cuban dissidents, Mr Paya was probably better known abroad than at home as the Communist authorities have been effective in infiltrating, and removing their political opponents.
Several shopkeepers and local residents in the poor neighbourhood of Cerro, close to the church, said they had no idea who Mr Paya was and had not heard of the Varela project.
Another man, called Nelson, repeated the government's insistence on US interference though said he shared some of Mr Paya's goals, like freedom of travel.
No successor
On Monday President Raul Castro said Cuba was working to lift restrictions on travel but said, once again, that any change would be gradual.
"They're fighting for their interests, but if there is someone else's money behind them they're mercenaries. They allow themselves to be sold. I can't applaud them," Nelson said of all Cuba's dissidents.
That dissident community was already hard hit last October, when the founder of the Ladies in White group Laura Pollan died. Many recalled her death as they mourned the loss of another leader.
"It's less than a year since we lost Laura Pollan, a charismatic leader who could systematically bring people onto the streets. Oswaldo Paya was the other one," says Eugenio Leal, who runs an anti-government blog.
"He fought with his ideas - using the legal system to promote peaceful change."
Mr Paya has no obvious successor; much of the dissident movement is personality-driven.
His most recent project - the Path of the People - garnered just over 1,200 signatures on the internet.
But his family and friends have vowed to carry on with his work.
"He trained many people so they could make their demands for peaceful, democratic change in Cuba. I think a new generation will continue with his legacy, and realise it," says Lilvio Fernandez.
"He fought for the rights of Cubans, without violence or hatred. That's how he'll be remembered," said his son Oswaldo.
As he and his family prepared to say their final goodbyes the congregation broke into a Cuba's national anthem, followed by shouts of "Freedom".