Colombia Gen Santoyo pleads guilty to paramilitary ties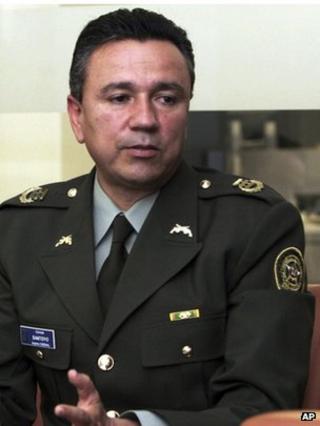 A retired Colombian police general, who served as the security chief for the then-president Alvaro Uribe, has pleaded guilty to having links with right-wing paramilitaries.
Gen Mauricio Santoyo said he had supported the United Self Defence Forces of Colombia, which is listed as a terrorist organisation in the US.
Last month, Gen Santoyo handed himself in to the US authorities.
They had charged him with conspiracy to smuggle drugs into the US.
Prosecutor Neil McBride said Gen Santoyo pleaded guilty to "aiding a terrorist group" but denied the drug trafficking charges.
Tip-offs
In his plea agreement, Gen Santoyo said that from 2001 to 2008 he took bribes from the United Self Defence Forces of Colombia (AUC) in exchange for helping them evade police operations against them.
He admitted tipping the group off about impending arrests planned by Colombian police and also US Drug Enforcement Administration agents.
From 2002 to 2005, Gen Santoyo served as the chief of security for the Colombian president at the time, Alvaro Uribe.
Speaking last month when Gen Santoyo turned himself in, Mr Uribe said he had never pushed for the general to be made his chief of security.
Last year, Alvaro Uribe's cousin and close ally, Mario Uribe, was found guilty of having links to the AUC but the former president has vehemently denied having any links to the group.
The AUC committed some of the worst mass killings in Colombia in the 1980s and 1990s as part of their campaign to combat left-wing guerrillas and anyone they suspected of being sympathisers.
As part of a 2003 peace deal brokered by Alvaro Uribe's government, most paramilitary leaders surrendered and demobilised tens of thousands of their men in exchange for reduced jail terms and protection from extradition.
However, the Colombian authorities have extradited more than a dozen former paramilitary leaders to the US to face drug trafficking charges since 2008, saying they had violated the terms of the peace deal.
Gen Santoyo is expected to be sentenced on 30 November.