Guatemala ex-police chief jailed for civil war kidnap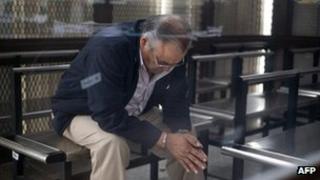 A former head of Guatemala's police force has been sentenced to 70 years in prison for the kidnapping of a student during the country's brutal civil war three decades ago.
Pedro Garcia Arredondo was found guilty of orchestrating the abduction of Edgar Saenz, who disappeared in 1981.
Garcia is the latest in a string of former security officers to be tried for abuses during the 1960-96 war.
He is the most senior Guatemalan police official to be jailed for war crimes.
Garcia, who headed the national police from 1974-1982, was arrested last year at his home near the capital, Guatemala City.
Prosecutors alleged that he was responsible for the capture and subsequent torture of Mr Saenz between March and June 1981. Mr Saenz remains missing to this day.
Garcia also faces separate murder charges in connection with the 1980 burning of the Spanish embassy in Guatemala, in which 36 people died.
The dead included the father of Nobel Peace Prize winner Rigoberta Menchu.
An estimated 200,000 people were killed or went missing during Guatemala's 36-year civil war.
The conflict was fought between US-backed right-wing governments and left-wing rebels supported by indigenous people and the rural poor.
In March, former Guatemalan soldier Pedro Pimentel Rios was sentenced to 6,060 years in prison for his role in a massacre of 201 people in the village of Dos Erres in 1982.
A court in January ordered that Efrain Rios Montt, Guatemala's military leader from 1982-3, should face genocide and crimes against humanity in connection with massacres during his time in power.