Mexico's Supreme Court rejects military trials code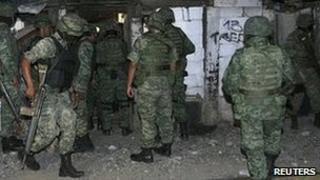 Mexico's Supreme Court has ruled that a military code giving army courts jurisdiction to try soldiers for crimes against civilians is unconstitutional.
The judges said the code wrongly extended the reach of military courts.
Rights groups says abuses by army personnel have risen sharply since troops were first deployed against the drug gangs in late 2006.
Campaigners hailed the court's decision but four similar judgements are needed to set a legal precedent.
The Supreme Court justices were considering the case of Bonfilio Rubio Villegas, who was shot dead by soldiers at a checkpoint in Guerrero state in 2009.
In an 8-2 ruling, the judges ruled that the suspects should be tried in a civilian court.
"When a person outside the military is either the defendant or the victim, an ordinary judge has authority over this case, not a military judge," Justice Luis Maria Aguilar said.
The military code of justice contravened the Mexican constitution which states that "military courts in no case and for no reason may extend their jurisdiction over people who do not belong to the army", the court found.
The Supreme Court ruled last year that soldiers should face trial in civilian courts but as it did not concern an individual case, it did not establish a precedent.
Now, however, the court is examining 28 cases that challenge the principle of military jurisdiction.
"It's a huge step by the court in striking down the military's central argument for fighting against civilian investigations," Nik Steinberg from Human Rights Watch told Reuters.
The Mexican armed forces have opened some 5,000 investigations into alleged abuses by soldiers between 2007 and April this year.
To date, only 38 soldiers have been convicted and sentenced, rights groups say.
Since late 2006, troops have been used to take on Mexico's gangs, with more than 50,000 people dying in drug-related violence.