Colombia profile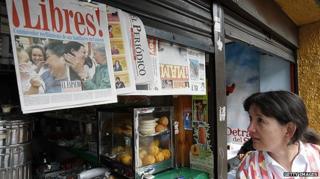 Colombia is one of the most dangerous places in the world for journalists. Media workers face intimidation by drug traffickers, guerrillas and paramilitaries.
Reporters Without Borders has denounced armed groups, corrupt politicians and drug barons as "enemies of press freedom". Rebels, including Farc, have used radio to spread their propaganda.
However, the private media are generally free to express a range of opinions and cover sensitive issues without official curbs, reports Freedom House.
Colombia's main commercial media are owned by a handful of large groups. Television is the medium of choice. The print media are privately-owned; El Tiempo is the most widely-read newspaper.
Some 25 million Colombians were online by December 2011, according to Internetworldstats.com. There are no official restrictions on internet access.
The press/online
Television
Radio
Hundreds of stations are registered with the Ministry of Communications. Among the main networks are: