Colombia profile - Media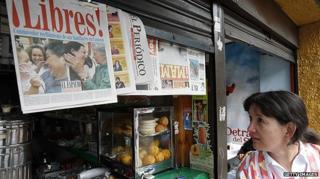 Colombian journalists face intimidation by drug traffickers, guerrillas and paramilitaries.
A "pervasive climate of fear" has led to self-censorship, says American NGO Freedom House. A government programme provides protection to some at-risk journalists.
Despite this, private media are generally free to express a range of opinions and cover sensitive issues.
Media ownership is concentrated among a handful of private groups. TV is the main news source.
The print media are privately-owned; El Tiempo is the most widely-read newspaper.
More than 27.5 million Colombians were online by 2016 (Internetlivestats.com). There are no curbs on access.
The press/online
Television
Radio
Hundreds of stations are registered with the Ministry of Communications. Among the main networks are: