Colombia embarks on rocky road to peace again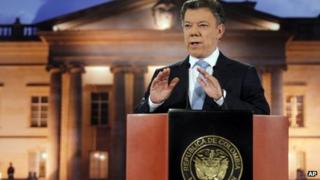 Since taking office in August 2010, Colombian President Juan Manuel Santos has made it clear he is open to pursuing peace talks with the country's biggest guerrilla group, the Revolutionary Armed Forces of Colombia (Farc).
And his government has taken steps that may pave the way for eventual negotiations.
These include the adoption of a law to compensate victims of the long-running civil conflict and return land to millions of displaced people.
And in June, Congress passed the legal framework for eventual peace talks that would set out the kind of sentences rebels could expect if they agreed to lay down their arms.
"These are pieces that fit into the view that Colombia is going to be a different country with peace and that, therefore, we must prepare for it," Carlos Eduardo Jaramillo, a former government adviser on peace issues, told the BBC.
But the road to peace will not be easy for President Santos who, mid-way through his term, has seen his approval ratings drop.
The prospect of dialogue with the Farc has provoked sharp criticism from several quarters, most notably from Mr Santos's predecessor, Alvaro Uribe.
Real dialogue?
Colombia has tried peace talks with the Farc before, says Jose Obdulio Gaviria, a former Uribe adviser.
"It has always been a monologue rather than dialogue and an expansion of Farc terrorist firepower instead of negotiation.
"I do not see anything different in what Santos is starting. For me, it is a leap in the dark."
News of the latest moves comes after an intensification in recent months of rebel activity, especially in the south of the country.
But this increase in attacks itself followed a series of setbacks for the guerrillas, whose founder Manuel Marulanda died in 2008 of natural causes, while other top leaders were killed by the Colombian military.
"The Farc have suffered serious blows in the past four years, blows unprecedented in their history," Mauricio Romero, who studies the armed conflict, told the BBC.
"This has forced the guerrilla leadership to accept that there is no alternative but to negotiate."
This year, the Farc freed the last 10 policemen and soldiers it was holding hostage, and announced an end to kidnapping for ransom.
The rebels' current commander, Rodrigo Londono, known by his alias of Timochenko, has issued statements saying they are ready for dialogue.
Former peace adviser Carlos Eduardo Jaramillo believes that military strikes have indeed led the rebels to consider peace but this does not constitute a turning point.
"They have been talking about [peace] for a long time," he says.
Open wounds
In his speech on Monday night, President Santos said that the goal was to learn from previous mistakes to avoid repeating them.
This is key because any negotiations between the government and the guerrillas bear the weight of previous failed negotiations and the mistrust this engendered.
During peace moves in the mid-1980s, the Farc along with left-wing political groups formed a party, the Patriotic Union (UP).
But far-right paramilitary groups targeted the UP. Nearly 3,000 of its members were killed, including several of its presidential candidates.
On the government side, distrust is fuelled by the memory of the failed peace process during the government of Andres Pastrana.
He set up a "demilitarised zone" in San Vicente, an area the size of Switzerland, in a bid to promote peace. Instead, the rebels were widely seen as using this breathing space to regroup and strengthen.
This explains Mr Santos's insistence that while peace moves are under way, military operations would continue in "every centimetre of national territory".
These open wounds from the past are likely to play a role in the negotiations, but will not necessarily doom them.
"We shall see in due course how to solve the problems that will arise," says analyst Mauricio Romero.