El Salvador profile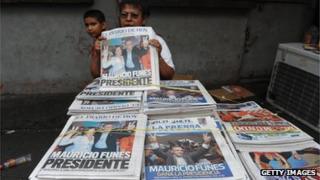 Press freedom is guaranteed under the constitution, and the media freely and routinely criticise the government and report on opposition activities.
Ownership of broadcasting outlets is concentrated among a small group of private operators. Five national TV networks are on air. There are scores of radio stations in the capital alone.
Media owners "often impose controls on journalists to protect their political or economic interests", says US-based Freedom House.
Cable TV is widely available and carries international channels.
There were nearly 1.5 million internet users by September 2012 (via Internetworldstats). Access is unrestricted.
The press
Television
Radio