Guyana profile - Leaders
President: Donald Ramotar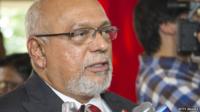 Donald Ramotar, of the ruling People's Progressive Party/Civic (PPP/C), was elected president in November 2011.
Mr Ramotar's election represented his party's fifth straight victory, though it lost its parliamentary majority for the first time in 19 years, winning 32 out of 65 seats.
Mr Ramotar has been the General Secretary of the PPP/C since 1997. An economist by training, he was a political adviser to his predecessor, President Bharrat Jagdeo, who had held the post since 1999.
The PPP/C gets most of its support from the Indo-Guyanese community, while the main opposition party, A Partnership for National Unity (APNU), is backed mainly by Afro-Guyanese voters.
On being sworn in, Mr Ramotar pledged to continue his predecessor's policies, with their emphasis on improving social conditions and government services, especially in the fields of housing, education, health and energy security.
He also said that having a minority government - the first time that this has happened since the country gained independence in 1966 - would test the maturity of Guyana's leaders.
Relations with the opposition-dominated parliament broke down in November 2014, when President Ramotar suspended the National Assembly ahead of a no-confidence vote.