Guatemala profile - Leaders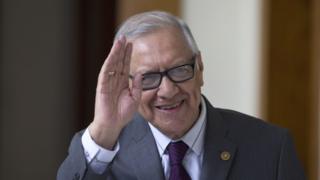 President: Alejandro Maldonado Aguirre
Vice-President Alejandro Maldonado was sworn in as president in September 2015 to serve out the remaining term of his predecessor, Otto Perez Molina, who had resigned over corruption allegations.
A former diplomat and judge, Mr Maldonado, 79, was set to stay in office until a scheduled presidential election in January.
Otto Perez stepped down after Congress stripped of him of his immunity in response to accusations by prosecutors that he ran a scheme under which companies paid bribes to avoid being levied import duties by the state customs agency.
After resigning, he was detained and appeared in court before an investigating judge in connection with the alleged bribery ring, known as La Linea or "The Line" .
Earlier in the year, the scandal had already led to the resignation and subsequent arrest of Mr Perez's Vice-President, Roxanna Baldetti, who was ordered to face trial for her alleged involvement, and replaced by Alejandro Maldonado, a former judge.
Both Mr Molina and Ms Baldetti deny the allegations.
Elected in November 2011, former army general Mr Perez was the first former military leader to become president in Guatemala after the end of the regimes of the 1970s and '80s.
After his defeat of populist businessman Manuel Baldizon, he promised to take strong action to halve Guatemala's rampant homicide rate.