St Lucia profile - Leaders
Head of state: Queen Elizabeth II, represented by Governor-General Pearlette Louisy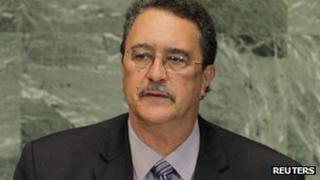 Prime minister: Kenny Anthony
Kenny Anthony, the leader of the St Lucia Labour Party (SLP), took office in December 2011 following a general election at which his party won a majority of the 17 seats in parliament.
At his swearing-in, 60-year-old Mr Anthony warned St Lucians of a "difficult and challenging" road ahead and said no single political party could manage the island's affairs alone.
He pledged to boost the economy, reduce crime and improve the prospects for young people.
His predecessor, Stephenson King from the United Workers Party (UWP), became prime minister in September 2007 following the death of veteran leader Sir John Compton.
Kenny Anthony served as prime minister between 1997 and 2006.