Peru profile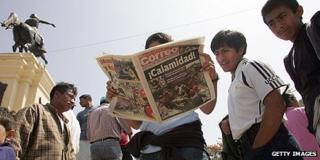 Privately-run broadcasters and newspapers dominate the media scene, with the state-run media having relatively small audiences.
Lima is home to dozens of radio stations and several TV services. Many radio stations and regional newspapers are available in the provinces.
Defamation remains a criminal offence. "Too many legal proceedings and vexatious applications continue to hamper the free flow of information... encouraging self-censorship on the part of journalists and bloggers," Reporters Without Borders (RSF) said in 2012.
Journalists are susceptible to intimidation or physical attack over negative coverage, reports US-based Freedom House.
Around 10.8 million Peruvians were online by June 2012 (Internetworldstats). There is a stark disparity between urban and rural internet penetration. Facebook is the top social media platform.
The press
Television
Radio
News agency/internet