Colombia Halloween blast kills two and injures dozens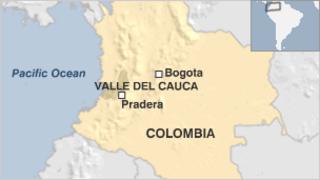 An explosion in a Colombian town during Halloween celebrations killed two people and injured more than 30, among them 14 children, police say.
The blast happened when a device being carried by two men on a bicycle went off, apparently prematurely.
The men were suspected members of a local drug gang and may have been targeting the police station in the town of Pradera, officials said.
The men who died are believed to be the attackers.
The explosion happened near the central square of Pradera where hundreds of children had gathered for Halloween celebrations.
The town's mayor told Colombian media that three of the children were badly hurt.