British Virgin Islands profile - Overview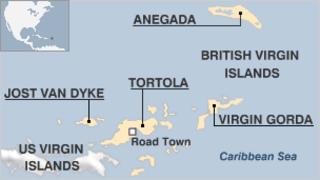 The British Virgin Islands, or BVI, comprise more than 40 Caribbean islands and islets with subtropical vegetation, white sandy beaches and coral reefs.
The British overseas territory forms part of an island chain, alongside the neighbouring US Virgin Islands. Tortola, the largest of the 16 inhabited islands, is home to more than three quarters of the population.
Tourism and offshore finance dominate the economy. Beef Island airport opened in 1968 and, a year later, the first yacht charter business was established, heralding the growth of a lucrative tourist industry.
With its agreeable climate, tranquil and clear waters, yachting and water sports, it is easy to see why the BVI is a popular destination. The islands are, however, prone to tropical storms and hurricanes.
Financial and business services account for nearly half of the islands' GDP. Legislation adopted in the mid-1980s enabled a rapid expansion of international financial services.
The Organisation for Economic Cooperation and Development (OECD) removed the territory from its list of uncooperative tax havens in 2002, although a British government commission called on the Islands, along with other Territories and Crown Dependencies, to improve standards of regulation in an October 2009 report.
As a result, the islands - along with Bermuda, the Cayman Islands, Anguilla, Montserrat and the Turks and Caicos Islands - signed agreements in May 2013 on sharing tax information with Britain, France, Germany, Italy and Spain.
The BVI once again came under the spotlight in 2016, when the leaked documents known as the "Panama Papers" revealed the islands to be the most popular tax haven by far with the clients of the Panamanian law firm Mossack Fonseca. The files threw new light on how the rich and powerful hide their wealth and their leaking caused a stir worldwide.
Shifting status
Named by Christopher Columbus in 1493, the islands were settled by the Dutch until 1666. The main island of Tortola was annexed by the Leeward Islands governor in 1672. The BVI as a whole became part of Britain's Leeward Islands colony in 1872.
The Leewards were administered under a federal system until 1956. After the Leewards had been de-federated, the BVI were granted separate colony status in 1960 and were awarded a limited degree of self-rule in 1967. Subsequent legislative amendments over the next few decades gradually extended the islands' autonomy.
In 2002 the British Overseas Territories Act granted British citizenship to the islanders, who can hold British passports and may work in the UK and EU. The territory has tightened its immigration regulations; illegal migrants have used the islands as a springboard to the US.
A new constitution adopted in 2007 established a greater degree of self-government. Under this constitution, the post of premier replaced that of chief minister as head of government.