Curacao profile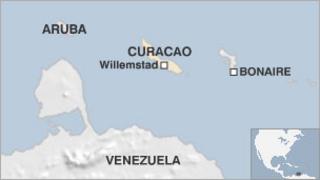 Curacao, a small Caribbean island off the Venezuelan coast, is an oil refining and tourist centre.
It became an autonomous country within the Kingdom of the Netherlands in 2010 in a change of constitutional status that dissolved the Netherlands Antilles.
While Curacao and Sint Maarten became autonomous countries, the less-populated islands of Bonaire, Sint Eustatius and Saba now have city status within the Netherlands.
The islands, once called the Dutch West Indies, were colonised in the 17th century. Formerly the centre of the slave trade, Curacao was hard hit by the abolition of slavery in 1863 but its prosperity returned in the early 20th century with the construction of refineries to service the newly discovered Venezuelan oil fields.
FACTS
Curacao
Autonomous country within the Kingdom of the Netherlands
Population 142,000

Area 444 sq km (171 sq miles)

Major languages Dutch, Papiamento, English

Major religion Christianity

Life expectancy 73 years (men), 79 years (women)

Currency Netherlands Antillean guilder
LEADER
Head of state: King of the Netherlands, represented by a governor
Prime Minister-designate: Hensley Koeiman
Hensley Koeiman became prime minister-designate following a general election in October 2016, in which the Partido MAN which he leads won the most votes.
He heads a coalition government made up of the Partido MAN, the Party for the Restructured Antilles (PAR), National People's Party (PNP) and Sovereign People (PS)
The coalition has said it wants to focus on strengthening the economy, good governance and the fight against corruption.
Mr Koeiman trained as an architectural engineer and has served as a government minister.
MEDIA
Curacao's media landscape is characterised by a substantial number of media outlets.
There are no fewer than 28 licensed radio stations, eight newspapers and at least three television stations, according to a 2016 report by UNESCO.
Legislation does not currently distinguish between public, private and community radio. Curacao does not have any public service media. All of its media are commercial entities.