Venezuela's Chavez returns from treatment in Cuba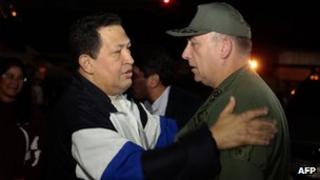 Venezuelan President Hugo Chavez has returned from cancer-related treatment in Cuba, amid renewed speculation about his health.
In his first public appearance since 15 November, he was shown on state TV arriving at Caracas airport.
"I'm happy to be back again, happy and enthused," he said, jokingly asking: "So where's the party?"
He was said to be receiving "hyperbaric oxygenation" therapy, which can ease ailments caused by radiation treatment.
But speculation has been rife that the unspecified cancer he was first diagnosed with in July 2011 has returned.
Secrecy and doubts
Mr Chavez was seen walking down the steps from his plane, accompanied by Vice President Nicolas Maduro, and warmly greeting members of his cabinet.
Although he said he was happy to be back, he did not go into details about the treatment he had received or the current state of his health.
In a letter to the National Assembly, before travelling to Cuba, he said he had been "advised to begin a new special treatment, with several sessions of hyperbaric oxygen therapy and physiotherapy" which, he said, would "consolidate recent health improvements".
Hyperbaric oxygen therapy involves breathing pure oxygen in a sealed and pressurised chamber.
Mr Chavez has spent many months receiving surgery and treatment in Cuba since his diagnosis.
In May, he declared himself free of cancer.
However, he has never given much detail about the type of cancer he suffered from, and chose to be treated in Cuba rather than Venezuela, which has led the opposition to call for greater transparency.
"This secrecy always leaves doubts about how much truth there is in the government's statements," said opposition politician Ramon Guillermo Aveledo.
Mr Chavez's recent visit to Cuba follows his re-election in October for a third term in office.