Colombia's Farc to continue targeting military personnel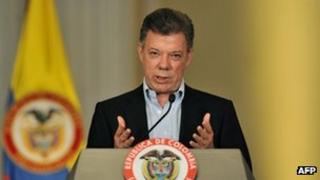 Colombia's Farc rebel group has said that it intends to carry on capturing military personnel, despite warnings that it could undermine peace talks.
Two policemen are currently being held by the left-wing group.
The government says they have been "kidnapped", but the Farc has described them as "prisoners of war".
The rebels declared a unilateral two-month ceasefire at the start of the talks to end five decades of conflict, but it was suspended on 20 January.
The government says it will not halt its operations against the Farc until a final peace agreement has been signed.
The latest round of peace talks is set to start on Thursday in the Cuban capital, Havana.
The rebels pledged to stop kidnapping for ransom last year and released ten policemen and soldiers they had been holding captive.
In their latest statement, however, they said that capturing police and military officers was "part of its right" when they "surrender in battle".
Last week, a Farc spokesman said the negotiations were advancing at an accelerated pace – "in the rhythm of mambo", as he put it.
After the third round of talks, the spokesman, Jesus Santrich, said common ground on land reform had been found.
Colombia's chief negotiator, Humberto de la Calle, told Efe news agency that resuming the "kidnapping" was a "mistaken response that could harm the talks".
The government says it has cost the lives of more than 500,000 people.
Among the land reform issues proposed by the Farc is a demand that 25 million hectares (62 million acres) of land - more than 20% of the country - be handed over to the country's poor.