Farc ambush kills policemen and escalates tensions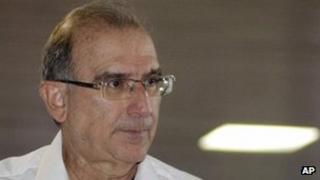 Colombia's Farc rebels have killed three policemen in an ambush near the Venezuelan border, authorities say.
The government also says a top Farc commander was among the six men killed in an army operation on Thursday.
The latest escalation in the conflict comes as the latest round of peace talks in Cuba enters its second day.
The rebels blame the government for blocking progress, while the government has said Colombia will not be forced into a ceasefire by violence.
The reported ambush on Friday happened in the region of Maicao, on the northern tip of Colombia.
The Colombian army said helicopters were sent to the area, after the attack was carried out by the 59th front of the Farc.
On Thursday, five rebels are said to have died in a government offensive in Nudo del Paramillo, in the northern region of Antioquia.
Among them was top Farc commander Jacobo Arango, the government said.
The Marxist was reportedly close to the Farc's chief negotiator, Ivan Marquez.
"It's a strike of great importance," Defense Minister Juan Carlos Pinzon told Reuters news agency.
Four government soldiers were reportedly killed and another two wounded in southern Colombia, also on Thursday.
While Ivan Marquez complained about a list of "nos" presented by the government, Colombian chief negotiator, Humberto de la Calle, said the violence would not force the government into agreeing a bilateral ceasefire.
Last Friday, two policemen disappeared but Farc chief negotiator Ivan Marquez said he had no knowledge of their whereabouts.
The rebels declared a unilateral two-month ceasefire at the start of the talks in November to end five decades of conflict, but it was suspended on 20 January.
Colombia's stance has been to accept a bilateral truce only when a final peace agreement has been signed.
The government says the conflict, which has lasted nearly five decades, has cost the lives of more than 500,000 people.
Among the land reform issues proposed by the Farc is a demand that 25 million hectares (62 million acres) of land - more than 20% of the country - be handed over to the country's poor.