Venezuela officials: Hugo Chavez's health 'improving'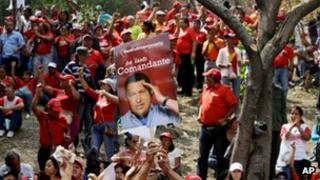 Venezuelan President Hugo Chavez is making gradual but clear progress as he recovers from cancer surgery in Cuba, Venezuelan officials say.
National Assembly Speaker Diosdado Cabello said he had visited Mr Chavez in hospital, and that the president's health was "clearly improving".
The Venezuelan leader has not been seen or heard in public since he had surgery almost eight weeks ago.
The nature of his cancer has not been revealed.
In address broadcast on TV, Mr Cabello said he had visited Mr Chavez in Cuba on Friday.
The fact that all the updates on the president's health are delivered by members of his party rather than the medical team treating him has fuelled speculation within Venezuela and abroad about the president's state.
The opposition has demanded clarity about who is running the country after Mr Chavez missed his own inauguration for a fourth presidential term on 10 January.
The Venezuelan Supreme Court ruled that he could be sworn in at a later date.
But the opposition argues that in the continuing absence of President Chavez, Mr Cabello should take over and elections called within 30 days.