'Colombian drug lord' alias Pichi arrested in Panama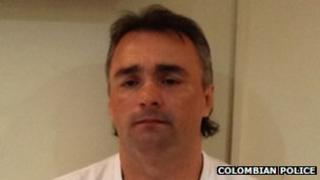 A Colombian man suspected of leading a drug cartel in the city of Medellin has been arrested in neighbouring Panama.
The man, known as Pichi, was arrested in a joint operation by the Panamanian and Colombian police. His real name as not yet been released.
He is accused of leading a drug gang known as The Office and is suspected of ordering the murder of nine people in the city of Medellin last December.
The motive behind that killing is believed to be gang-internal rivalry.
'Murderous gang'
He is also wanted in connection with the murder of two counter-narcotics police officers in Medellin.
Sergio Castro and Franklin Moreno, who had been investigating The Office, were shot dead in Medellin in July 2012.
Colombian President Juan Manuel Santos congratulated the police on alias Pichi's arrest via his Twitter account. "A good hit", the president tweeted.
He also thanked Panamanian President Ricardo Martinelli for his country's help in the arrest in the capital, Panama City.
Alias Pichi is suspected of having taken over the leadership of The Office after the arrest in August of the gang's previous leader, alias Sebastian.
At the time, Colombian Defence Minister, Juan Carlos Pinzon, said the gang had "killed more people than any other criminal network in Colombia in the last 10 years".
On 31 December 2012, police found nine bodies in a luxury home in Envigado, on the outskirts of Medellin.
Among them was a man suspected of working as a hitman for The Office.
Because there were no signs of forced entry, police suspect the murder may have been carried out by someone attending the party at the house, or someone known to the revellers, possibly a gang-internal settling of scores.
Colombia has requested the extradition of alias Pichi from Panama.