US lawmakers in Cuba amid Alan Gross imprisonment row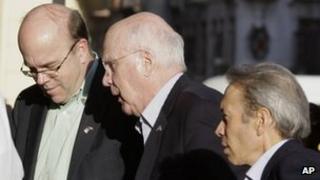 A group of seven US lawmakers have met Cuba's foreign minister in an effort to improve relations between the two countries.
The US state department says the delegation will also see Alan Gross, a US contractor whose arrest in Cuba in 2009 stalled diplomatic efforts.
He was accused of smuggling internet kit and sentenced to 15 years.
US state department spokeswoman Victoria Nuland said the lawmakers would seek Gross' immediate release.
She added the US would "look forward to the results of their diplomacy on his behalf and, more broadly, with regard to all of our concerns about Cuba, human rights and other things".
The US has previously said relations with Cuba could not move forward until Gross was released from prison.
'Interest in Cuba'
Cuba said in September that it was prepared to negotiate with Washington over Gross but only if the US was prepared to discuss the fate of five Cuban intelligence officers serving long prison sentences in the US.
Democratic Senator Patrick Leahy, who saw Gross and met Cuban President Raul Castro a year ago, leads the group of five senators and two congressmen.
"Every one of us has an interest in Cuba," Sen Leahy said on arrival on Monday. "We all want to see relations improve and both sides take steps in that direction."
On Monday, Sen Leahy and other members of the delegation dined with Parliament Chief Ricardo Alarcon and toured American writer Ernest Hemingway's former villa.
They were seen entering an upscale restaurant in Old Havana along with Cuban Foreign Minister Bruno Rodriguez on Tuesday.
The delegation hopes to meet Mr Castro before they depart on Wednesday.
'Obvious problems'
The two countries have had no formal diplomatic ties since shortly after Cuba's 1959 revolution, and the US has maintained a trade embargo against the island since 1961.
Gross' arrest brought about an abrupt end to a thaw begun when President Barack Obama was first elected in 2008.
But the number of people travelling between the two countries increased in 2012, and food-for-cash sales allowed under a 2000 amendment to the embargo increased as well.
Between 450,000 and 500,000 Cuban-Americans and Americans visited Cuba, according to tourism industry sources, and food sales increased by $100m (£65m) to $457m, making the US one of Cuba's top 10 trading partners and its second largest origin of tourists after Canada.
Sen Leahy said on Monday members of the delegation would like to take Gross with them when they leave for Haiti, but doubted that would happen.
"There are obvious problems between our two countries, but we are not here to negotiate," he said. "We are here to listen and then go back home and talk about what we see."