Fire engulfs Mexico City marketplace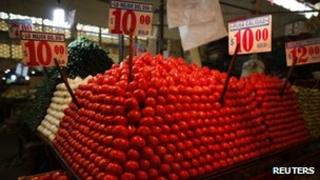 A fire has swept through a historic marketplace in the Mexican capital, Mexico City, causing extensive damage.
Images broadcast on Mexican television network Televisa showed smoke pouring from the Merced market, east of the city's main square, the Zocalo.
Officials said the blaze was brought under control after several hours and there were no reports of injuries.
The cause is not yet clear but Mexican media reported that an electrical short circuit may be to blame.
The fire, which started in the early hours of the morning, spread through the main hall of the market, damaging an area of more than 7,000 sq m (75,000 sq ft).
The local metro station was closed and residents were asked to avoid the area to allow firefighters to carry out their work.