Bolivian soldiers held in Chile return home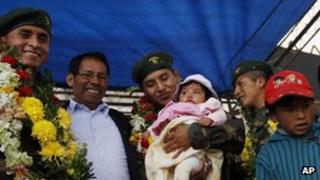 Three Bolivian soldiers, who were detained in Chile in January causing tensions between the two neighbours to rise, have returned home.
A Chilean court ruled that the three, who had been arrested for crossing into Chile carrying a rifle, would not have to face trial.
Instead, they were allowed to return to Bolivia on Friday.
Under the agreement reached, the three men will have to refrain from entering Chile for a year.
Relations between Chile and Bolivia have historically been poor, with Bolivia trying to reclaim the Pacific coastline it lost to Chile in a war more than a century ago.
Bolivian President Evo Morales demanded that Chile apologise to the soldiers for the arrest.
Chilean Foreign Minister Alfredo Moreno urged the Bolivian military to instruct its soldiers to refrain from crossing the border illegally,