Hundreds march for 'truth' about Hugo Chavez's health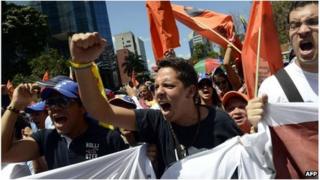 Hundreds of Venezuelan students and opposition members have marched in Caracas demanding full details about President Hugo Chavez's health.
Mr Chavez returned to Venezuela last month after being treated for cancer in Cuba, but has not appeared since.
He is said to be taking decisions about the country from the hospital bed but there have been mixed messages from officials on his condition.
The vice president said on Saturday Mr Chavez was still having chemotherapy.
Nicolas Maduro was speaking after a Mass at a military hospital in honour of the president.
On Thursday, he went on TV to say Mr Chavez was battling for his life.
Protesters said the "March for Truth", which was closely watched by the National Guard, was not against Mr Chavez.
"All we want to know is the real situation of our president. Is he fit to govern? He is not any man, we have the right to know what's going on," a protester told Venezuelan TV channel Globovision.
Mr Chavez has been in office for 14 years and is believed to have cancer in his pelvic area but his exact illness has never been disclosed.
He announced in June 2011 that he had cancer and has undergone four operations since then, as well as chemotherapy and radiation therapy.
Hugo Chavez was re-elected for another six-year term in October 2012, but the Supreme Court ruled that his swearing-in on 10 January could be delayed because of his illness.