New Pope election sparks Brazil-Argentina barbs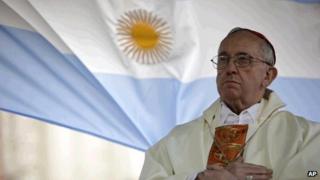 The choice of an Argentine to be the first Latin American pope has generated a wave of light-hearted banter between social media users in Brazil and Argentina.
The Brazilians were rooting for Sao Paulo's archbishop, Odilo Scherer, considered one of the front-runners. So the election of Jorge Mario Bergoglio, the head of the Buenos Aires archdiocese, came as a bit of a surprise.
But Brazilians quickly turned their dismay into humorous digs at their neighbours.
On Twitter, Alexandre Berbe remarked that the "choice of an Argentine Pope was the best thing to have happened to the Brazilian industry of jokes".
Maria Graciolli said the choice was likely to have unforeseen consequences among Brazil's more than 120m Catholics with this imaginary newspaper headline: "Atheism breaks record in Brazil after the election of Argentine pope."
Journalist and actor Fernando Angelo focused on the supposed tendency to bluster of the Argentine "hermanos" (brothers), especially when it comes to football, claiming that the "Argentines are already saying that the new Pope is better than Pele!".
Football, of course, generated most of the best jibes, the two countries being staunch rivals on the pitch.
Betto "Vuohi" Bode envisioned a Sunday Mass which would follow what he sees as the standard pattern of a match between Brazil and Argentina, in which "the Argentine Pope takes a dive on the pitch at the very end of the service in order to delay it".
Mario Filho, on the other hand, alludes to Diego Maradona's "hand of god", which he used to score a goal against England in the 1986 World Cup and seal the fate of the English team: "The first decision of the Argentine Pope: Hand goals are allowed."
Barbecue rivalry
There is also an old dispute over which nation has the best meat and prepares the best barbecues.
Brazilians have improved in both categories, but the Argentines are considered to have the lead, with their specific cuts and "little secrets" to prepare meat.
Rodolfo Chagas commented: "Now we'll know what it means when smoke comes out of the Vatican - it's the barbecue they're having."
An Argentine teacher who lives in Brazil, Luis Fernando Ayerbe, commented on Facebook: "God is everywhere, but now he may be reached through Buenos Aires."
Argentine blogger Faith created a shortlist of famous Argentines, arguing that even the princess of the Netherlands was Argentine - an allusion to Maxima Zorreguieta Cerruti, born in Buenos Aires, and the wife of the Dutch heir apparent, Prince William Alexander.
"The queen of the Netherlands is Argentine, Messi is Argentine, the Pope, Argentine. Brazil carries on trying."
But it was perhaps Argentine comedian Nik who nailed it when he said, referring to the popular Brazilian saying that "God is Brazilian": "Maradona, Messi, Bergoglio... can't you see that God is Argentine?"