Clashes in northern Peru leave two people dead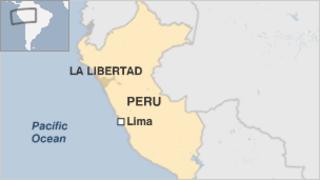 Clashes between miners and riot police in northern Peru have left at least two people dead.
The government said five police officers were also injured.
In a statement, the police said they had come under attack when evicting hundreds of miners working illegally at a gold mine in the region of La Libertad, about 500km (310 miles) north of the capital Lima.
Police said the miners were armed with sticks and had explosives with them.
Four people were arrested at the La Bonita mine.
"About 500 illegal miners had invaded a mine owned by the Consorcio Minero Horizonte company," said local official Luis Velezmoro, according to RPP radio station.
He said the company had sought police help to evict them.
The company did not comment on the incident.
Peru's National Human Rights Coordinator called on the government to stop using potentially lethal weapons when dealing with social unrest.
At least 26 people have died in social unrest since President Ollanta Humala came to power in 2011, despite his promise that police would spill no blood under his mandate.