Strike over Bolivia airport named after Evo Morales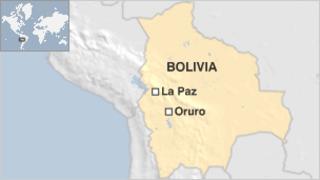 A general strike is under way in the Bolivian region of Oruro against plans to rename its airport Evo Morales, in a tribute to the current president.
The local assembly, dominated by Mr Morales' supporters, approved the move in February, after the airport gained international status.
But many residents have demanded that it remain named after aviation pioneer and local hero Juan Mendoza.
President Morales said he had never requested the name change.
"I'll never suggest that any building or project be named Evo Morales. I don't know what their goal was, perhaps a political issue, but let them decide between themselves and don't involve me," he told Bolivian media.
'Class struggle'
The country's largest trade union, students and businesses are taking part in the protests for an indefinite period, which partially paralysed the city and blocked some of the main roads in the region.
Mr Morales' supporters from indigenous associations and activist groups have denounced the protests.
On the state radio, they accused the opposition of defending "the colonial state, prejudiced, pro employers, feudal mining," against the majority.
The row began on 7 February, when the local assembly of Oruro approved a motion to change the name of airport Juan Mendoza to Evo Morales.
In the past weeks, protesters organised three other strikes. Some, including Oruro Mayor Rossio Pimentel, said they were on hunger strike.
Mr Morales was elected in 2005 and is the first indigenous Bolivian president.
His left-wing policies have proved controversial with some middle-class Bolivians, although he remains popular among the indigenous majority.