Rio de Janeiro bus in deadly viaduct fall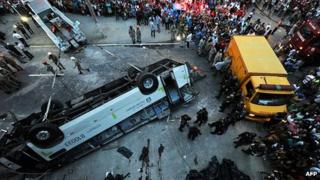 Seven people have died in Rio de Janeiro after a bus fell 10m from a viaduct in the city centre, Brazilian police say.
Several more passengers were injured as the 328 bus crashed on to the Avenida Brasil, one of the city's main thoroughfares, landing on its roof.
Eighteen passengers were reportedly on the bus at the time of the accident.
Fire engines, ambulances and two helicopters have been working to ferry the injured to hospitals.
Police said those killed were five men and two women.
The accident happened at around 16:30 (20:30 BST) close to Rio's Governor's Island, in the northern area of the city.
Globo TV footage shot from a helicopter showed emergency teams evacuating the injured from the overturned bus with rush-hour traffic at a standstill on Avenida Brasil.
The cause of the accident is not yet known. However, Globo cited a witness as saying that the driver had a dispute with a passenger shortly before the crash.
Police say they are investigating.