Youths who murdered Mexican activist Chavez sentenced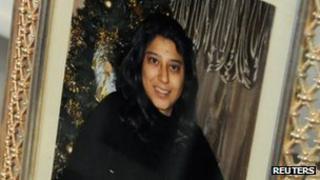 A judge in Mexico has sentenced three youths to 15 years in prison for the 2011 murder of Mexican activist Susana Chavez.
Ms Chavez was found strangled and with one hand cut off in Ciudad Juarez.
She had been a key figure in the community, drawing attention to the killing of mainly poor women in the northern border town in the 1990s.
She had coined the slogan "Not One More Death", which became popular at protests against the women's killings.
Police found her body dumped in the city centre on 6 January 2011.
A trail of blood led them to the home Sergio Ruben Cardenas, where they found more blood and the severed hand of Ms Chavez.
'Drunken mistake'
Neighbours gave police a description of Cardenas, who was arrested shortly afterwards in Ciudad Juarez.
He confessed immediately and told police the names of his two accomplices.
All three told police they had been drunk on the night of the murder and had come across Ms Chavez on their way to buy more alcohol.
According to their confession they asked Ms Chavez along to Cardenas's home for drinks.
There, they reportedly got into an argument, with the three youths claiming they were members of a criminal gang and Ms Chavez telling them she was an undercover policewoman.
The three told police they panicked, thinking she may inform on them.
They said they covered Ms Chavez's face in sticky tape until she suffocated and cut off her hand to make her murder look like a gangland execution.
Ms Chavez was active in an organisation called May Our Daughters Return Home.
The group represents the families and friends of more than 300 women who were murdered in Ciudad Juarez in a wave of violence which started in 1993 and lasted for a decade.
There is no generally accepted motive for the murders.
They have been variously attributed to serial killers, drug cartels and domestic violence. Some of the killings are believed to have been sexually motivated.