Venezuela election: Rival camps drum up support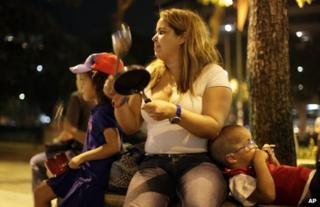 It is 20:00 (02:30 GMT) and the noise is loud in Caracas. Banging of pots and pans contrasts with fireworks going off in the background. This is the sound of polarised politics in Venezuela.
Since the election on Sunday, Venezuela appears clearly split in two, more so than before.
On the one side there are those who accept that Nicolas Maduro, who was handpicked by Hugo Chavez as his successor, is the new president of Venezuela.
On the other side there are those who cry foul and call for a recount, backing opposition leader Henrique Capriles, who lost to Mr Chavez in last October's election.
Their political allegiance determines the noise they make.
Mr Capriles called for cacerolazos (cacerola means pot in Spanish) to back a recount, every night at 20:00. In response, Mr Maduro has asked for a cohetazo (cohete is fireworks in Spanish).
Venezuelan politics have been polarised around the image of Mr Chavez, who led the country for 14 years before his death last March.
But last Sunday's elections gave politics a new twist.
Opposition buoyed
Mr Maduro won by a very tight margin, 1.8 percentage points compared to Mr Chavez's 11 percentage points victory in last October's election.
This gave the opposition new strength.
"We are not going to put up with any injustice," said Laura Zamora, a 21-year-old student banging pots with her mother in the Altamira neighbourhood of Caracas. "Now we are equal, maybe we are even a majority."
Sonia Berrios said: "They proclaimed the president without letting the recount take place. If they won, let them show it. What are they afraid of?"
The first cacerolazo took place on Monday night, accompanied by some protests around the country. According to the government, several protests ended up in violence, leading to the deaths of seven people.
Pro-government sectors called for the creation of a Popular Front for the Defence of the Revolution and Peace. In a meeting in the San Agustin neighbourhood, surrounded by hills known as barrios, or shantytowns, community leaders blamed Mr Capriles for what they called an attempt at destabilising the country.
"The revolutionary and chavista people are peaceful people," said a communique read out by a community leader known as Mao.
"But before the indignation that such acts of violence create, we as a people need to defend our achievements, our safety and our life, and the life of our homeland."
Nation divided
On Tuesday there was a back and forth between government officials and Henrique Capriles on television.
Mr Maduro gave three broadcasts, carried on all TV channels, in which he blamed Mr Capriles for Monday night's violence and accused him of a coup plot. Mr Maduro said the pattern of violence was similar to that of the coup attempt in 2002, when Mr Chavez was deposed for two days.
He also said he would not allow a march Mr Capriles had organised for Wednesday to the seat of the National Electoral Council, asking for a recount.
He said he was willing to "radicalise" the revolution if the violence continued, while a crowd was cheering and chanting "They won't come back!"
Following the government's declarations, Mr Capriles held a press conference and called off Wednesday's march, asking for daily cacerolazos.
It remains to be seen what happens once Mr Maduro is officially sworn in as president on Friday, with half of the country refusing to accept his victory, and the other half believing there is a coup under way.
"There are not two Venezuelas - there is one Venezuela, with two halves that think differently," said political analyst Luis Vicente Leon. "The government's duty is to manage that they coexist in peace."